The following steps can be used to restore and overwrite all settings modified on the Connect Tech Blue Heat/Net and Blue Heat/Net Sync ethernet to serial devices. While no incoming/outgoing data is ever stored on the unit, the asynchronous and/or synchronous serial and network settings of the unit are.
This procedure can be used to restore all default settings to a unit for recommission in a new environment, or to ensure that any previous settings have been overwritten.
1. Login to the Unit's Web Configuration Manager and browse to the Blue Heat/Net Settings link. Click on Restore Defaults and confirm by selecting yes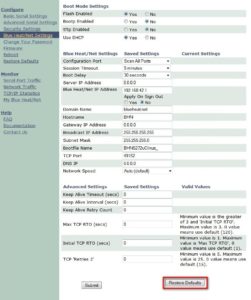 Click to Enlarge


Click to Enlarge
2. Once the settings have been restored to defaults select Save to Flash and reboot the Blue Heat/Net.

Click to Enlarge
All settings have now been overwritten to factory defaults, and the unit should be discovered at its default IP address (192.168.42.1).
For additional support regarding restoring Blue Heat/Net units to default settings, please email support@connecttech.com
Originally from kdb326: Overwrite all saved settings on the Blue Heat/Net and Blue Heat/Net Sync