Affected Products:
The following BlueStorm/LP product part numbers (which are built as 6 ports, RS232 and 2 ports, RS422/485) exhibit the operational errata.
BL048, BLG048
BL049, BLG049
BL050, BLG050
BL051, BLG051
Nature of Errata:
Ports #5 and #6 of the above affected products are physically RS232 ports, but they will be misidentified by Windows (and other Drivers) as being capable of supporting RS422/485 settings. Although the RS485 Options are available, a simple work around exists which allows the RS232 port to function normally.
After driver installation the BlueStorm board will appear in the 'Device Manager' (Control Panel → System → Hardware → Device Manager) as CTI 8-PORT PCI UART RS232/485, similar to the following:

Click to Enlarge
Navigating to the property page (CTI PCI UART Serial Port 5/6 → Port Settings → Advanced) indicates these setup options: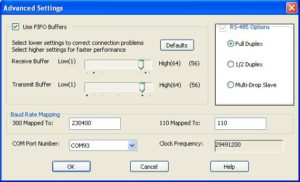 Click to Enlarge
Make sure that the RS-485 Option is set to Full Duplex, this allows the physical RS-232 port to function normally. This setting is the default when the Driver is initially installed.
Originally from kdb313: BlueStorm Windows driver errata for part numbers BL[G]048, BL[G]049, BL[G]050, BL[G]051